We're just days away from April and all its fabulous events! So many local events benefit the community, so it's a great time to socialize and enjoy good food, drink, and entertainment, all while helping the community. Check out some of the happenings along the Emerald Coast and plan a visit. If you're lucky enough to be local enjoy them all!
Festivals & Happenings
UNwineD: Grand Tasting
When: April 1st
Where: Aaron Bessant Park at Pier Park
Description: UNwineD is an incredible two-day celebration of craft beer, spirits, and wine set on March 31 & April 1, 2023, at Aaron Bessant Park in Panama City Beach. Savor the flavors of fine craft beer, award-winning wine, and delicious local cuisine pairings. The venue is festival seating, so bring your lawn chairs or blankets.
For more info and to purchase tickets, visit
UNwineD
Friday, March 31

Presented by Southern Living | 6:00 PM
Get an exclusive preview of the UNwineD and raise a glass while you mix and mingle with mixologists and top tastemakers of the South. This one-of-a-kind night offers, custom cocktails, live music, and more! Only 250 tickets are sold to the Kickoff Party and include admission to the entire weekend of events.
Saturday, April 1

The Celebration | 1 - 4 PM
Grand Tasting and Cocktail Competition: Taste craft beer, spirits, and wine from around the world and sample delectable creations by local leading chefs. Browse through Art & Vendor Row filled with local shops and boutiques, and be sure to also stop by the Southern Living tent for home decor, cookbooks, and more!
Saturday, April 1
Concert in the Park | 4:30 PM

Bring your lawn chair and blankets! Following the Grand Afternoon Tasting, join us for a concert in the park with live entertainment by headliner Magic Giant and the opening act The Collection.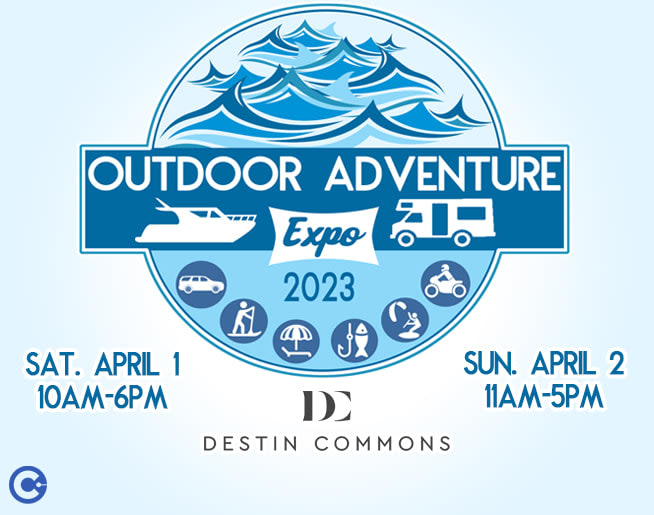 Outdoor Adventure Expo
When: April 1st-2nd
Where: Destin Commons
Description: Want to explore the outdoors by wheels or water? To get you ready, visit The Outdoor Adventure Expo at Destin Commons taking place April 1 and 2. Tents, tables, and outdoor enthusiasts with be set up in the parking lot between Bass Pro and Uncle Bucks at Destin Commons.
Saturday, April 1 | 10 AM - 6 PM

Sunday, April 2 | 11 AM - 5 PM
The expo will showcase the latest boats to get you on the water. To explore by the wheel, there will be ATVs, motorcycles, bicycles, golf carts, and more. For water adventure seekers, there will be jet skis, kayaks, paddleboards, and fishing equipment. There will also be everything you need to create an outdoor oasis at home. Check out demonstrations to hone your outdoor adventure skills too.

Stinky's Fish Camp Anniversary & Pompano Tournament Kickoff Party
When: April 1st-2nd
Where: Stinky's Bait Shack
Description: It's time to celebrate all things Stinky's! Join in the fun Saturday, April 1st from 5 - 9 PM as they celebrate 16 YEARS and kick off the annual Stinky's Pompano Tournament. You do not want to miss this celebration packed full of good eats, tournament information, and live music.
Tournament Kickoff Party
Saturday, April 1 | 6 PM
The annual event is always a fun party for all who love Stinky's. The outdoor event features live music by Dread Clampitt + Big Daddy O, a crawfish boil, pig roast for picking, and a delicious oversized birthday cake to share with friends and family of Stinky's.
Stinky's Pompano Tournament 2023
Stinky's Bait Shack Annual Pompano Tournament is set for April 2 - 30. Cash and prizes are rewarded. For registration and information stop by Stinky's Bait Shack or call 850-622-BAIT. Come out to the Captain's Party for everything you need including a good time. Participants will receive their swag bags. Weigh-ins begin April 2.

Doggie Eggstravaganza
When: April 6th
Where: Grand Boulevard Dog Park
Description: Dog-Harmony is hosting Doggie Eggstravaganza, the annual canine-only social where dogs hunt for eggs filled with yummy treats in Grand Boulevard on Thursday, April 26 from 5:30 - 7:30 PM. Guests will enjoy snacks courtesy of JC's Gourmet, beer and wine, family-friendly games,s, and great prizes.
Nearly 700 eggs will be hidden at Grand Park to sniff out. Bunny ears, chick outfits, and dainty Easter dresses are encouraged. A $15 donation per dog provides each participant with a basket for the canine egg hunt and access to professional photos sponsored by Mills Photo Design.
This event is presented as part of the Coastal Culture Series made possible by the Grand Boulevard Arts & Entertainment Program. Please no prongs or shock collars.
Visit
dog-harmony
to learn more, volunteer, donate, and adopt.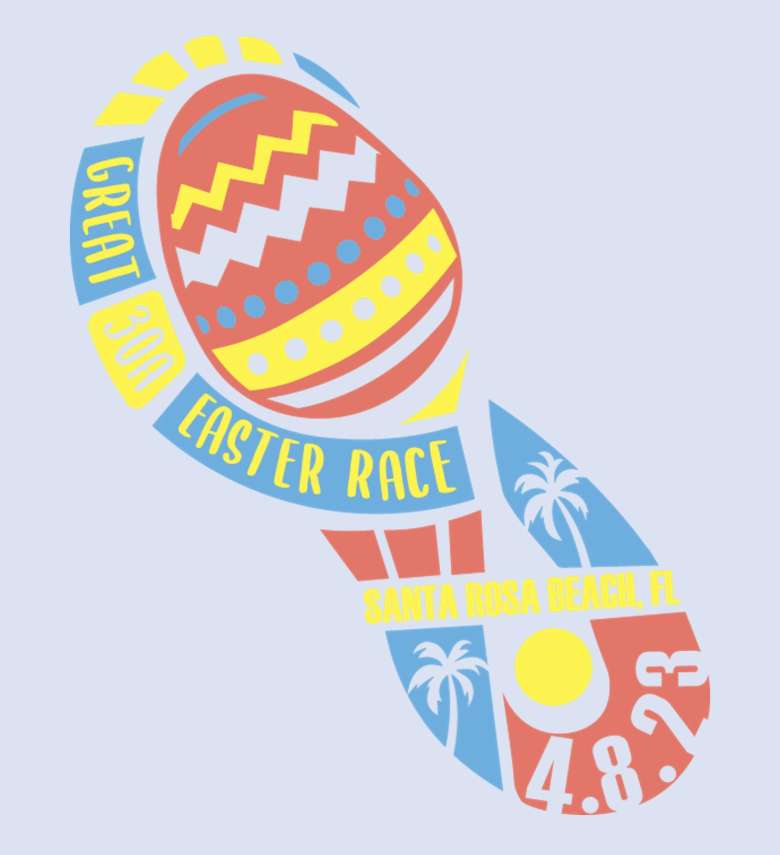 Great 30A Easter Race
When: April 8th
Where: Topsail Hill Preserve State Park
Description: The 2023 Great 30A Easter Race will be taking place at Topsail Hill Preserve State Park on Saturday, April 8, 2023. The race starts at 7 AM. Runners will have two distinct courses to choose from: the CLEAN FEET 5K course and the STINKY FEET 10K course. Both courses are run entirely inside Topsail Hill Preserve State Park with an awards ceremony to follow.
A portion of the proceeds from The Great 30A Easter Race benefits Friends of Topsail Hill Preserve State Park.
Baytowne Easter Explosion
When: April 8th
Where: The Village of Baytowne Wharf
Description: Bounce on over to the Village of Baytowne Wharf for an Easter Explosion, Saturday, April 18th from 12 - 3 PM. Enjoy a day filled with family-friendly entertainment, face painting, arts & crafts, live music, and more. Don't forget to get your picture taken with the Easter Bunny!
Seaside Easter Celebration
When: April 9th
Where: Seaside Amphitheater
Description: Come out to Seaside for the annual Easter Celebration on Sunday, April 9th from 11 AM til 2 PM. Visit with the Easter Bunny and enjoy the egg hunt in the Amphitheater at 1 PM. Plus: fun activities for guests of all ages beginning at 11 AM. Free and open to all.
Seaside's Amphitheater is a beautiful green space in the heart of Central Square where families will often gather for live music, outdoor movies, annual celebrations, children's activities, and other fun events.
Harbor Walk Village: Visit the Easter Bunny
When: April 9th
Where: HarborWalk Village
Description: Come out to HarborWalk Village along the Destin Harbor where restaurants, activities, and entertainment live year round. Receive a FREE 4x6 photo with you Visit the Easter Bunny on Sunday, April 9th from 2 PM - 4 PM. Enjoy kids' activities and a golden egg hunt! $10 on-site parking.

36th Annual Sandestin Wine Festival
When: April 13th-16th
Where: The Village of Baytowne Wharf
Description: The 36th Annual Sandestin Wine Festival at the Village of Baytowne Wharf at Sandestin Golf and Beach Resort will take place April 13 - 16, 2023. Topping area polls as a must-experience event, this beloved festival offers four full days of unique events including wine dinners with celebrity chefs, yoga, live music, interactive experiences, culinary tents, and of course wine tastings.
Wine novices can learn more about wines and samples from a comprehensive selection of all varieties, styles, and price ranges. Wine aficionados enjoy meeting winemakers, asking detailed questions, and acquiring hard-to-get selections. Everyone gets to enjoy the live music, interactive experiences at the Culinary tents, and shops and dining of the Village of Baytowne Wharf. This Event is rain or shine!
2023 Sandestin Wine Festival
April 13th | Official Kick-Off Party
April 14th & 15th | Grand Wine Tasting
April 15th | Seas The Day: Yoga, Mimosas & the Beach
April 16th | New Orleans Bottomless Brunch
The Sandestin Wine Festival takes place April 13 - 16, 2023 throughout The Village of Baytowne Wharf at Sandestin. The event is the most established and continuously running wine festival on the Gulf Coast and is known as the "Kentucky Derby of Wine Festivals." Always a picture-perfect event complete with white tents, grand wine tastings, culinary experiences, and live music. Visit
Sandestin Wine Festival
for more information.
Outdoor Adventure Film Night
When: April 15th
Where: Watersound Origins Village Commons Lawn
Description: On Saturday, April 15th, The Watersound Origins community will host an Outdoor Adventure Film Night at Village Commons featuring "Ground Swell: The Other Side of Fear" an in-depth look at the 2021-22 big wave season. Beginning at 7 PM, this event is free and open to the public.
Attendees are invited to bring low-back chairs or blankets. Coolers are permitted. Pets are not permitted. The event is suggested for those ages 10 and up.
Outdoor Adventure Film Night | April 15 @ 7pm
Ground Swell: The Other Side of Fear
An in-depth look at the 2021-22 big wave season. These surfers push past their fear and find out what is on the other side as they tackle monstrous waves in locations from Nazare in Portugal, Jaws and Pipeline in Hawaii, and Mavericks in Northern California.
Seabreeze Jazz Festival
When: April 19th-23rd
Where: Aaron Bessant Park
Description: Smooth jazz, white sands, and fun set for April 19-23, 2023 in beautiful Panama City Beach, Florida - The Ultimate Weekend of Smooth Jazz.
Named a "Top 10 Jazz Festival in the USA" by JazzIZ Magazine and recently nominated as "Best Jazz Festival" at the Oasis Smooth Jazz Awards, the Seabreeze Jazz Festival in Panama City Beach combines the top national smooth jazz artists with a full weekend of fun, sun, great beaches, and good times - all on the west end of Panama City Beach. The event now attracts over 20,000 fans from the USA, Canada, and Europe for the ultimate performance-packed weekend of jazz.
The Seabreeze Jazz Festival is the jazz festival for the true smooth jazz fan! No bait and switch here! See you in Panama City Beach, Florida at the "Ultimate Weekend of Smooth Jazz".
Moon Crush
When: April 20th-23rd
Where: Seascape Resort
Description: Moon Crush will be held at Seascape Resort in Miramar Beach, Florida April 20 – April 23 under The Pink full moon. JJ Grey and Mofro, The Avett Brothers, Jason Isbell and the 400 Unit, and The Black Crowes are among the acts on the lineup for the 2023 event.
Learn more about Moon Crush, the lineup, your safety, and the experience here: moon crush
.live
Moon Crush is intentionally designed to be a Music Vacation - not just a festival. You can plan on spending days at the beach, by the pool, or enjoying your favorite activities with the people you care about most. Then, as the sun begins to set, you'll make your way to our intimate outdoor venue where you'll have a reserved space for an evening of live music.
Sand & Starlight Supper Club
When: April 21st
Where: Bud & Alley's Waterfront Restuarant
Description: Join the Seaside School Foundation for the Annual Sand & Starlight Supper Club on Friday, April 21 from 5:30 to 10:00 PM at Bud & Alley's Restaurant in Seaside, Florida.
This exclusive event begins with cocktail hour on the beach, followed by an amazing 3-course meal and special musical entertainment throughout the night including Aaron LaVigne & Jenna Rubaii, Julia Cole, and The Saunder Boys. Full bar, beer, and wine are available the entire evening.
The Sand & Starlight Supper Club supports the Seaside School Foundation whose primary mission is to take a long-term approach to raise, invest, and spend funds in support of The Seaside School, Inc. and to steward those funds so they provide support in perpetuity.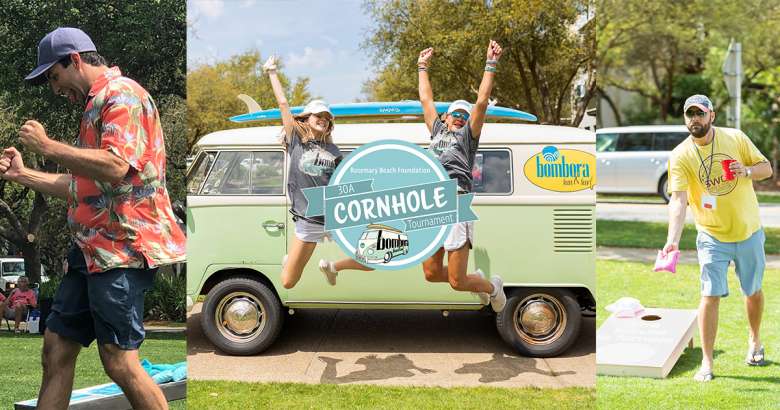 30A Cornhole Tournament at Rosemary Beach
When: April 22nd
Where: East Long Green Road
Description: Rosemary Beach Foundation invites you to come out for a day of friendly competition at the 9th annual 30A Corn Hole Tournament on Saturday, April 22nd in Rosemary Beach. The two-member team Corn Hole Tournament will be held on East Long Green. Registration begins at 10 AM. Tickets: Corn Hole.
Consider bringing your team and/or sponsoring the event. The 2023 Tournament benefits Rosemary Beach Foundation and charitable partners, Special Olympics-Florida (Walton County), South Walton Academy, and Westwood Ranch.
South Walton Beaches Wine & Food Festival
When: April 27th-30th
Where: Grand Boulevard
Description: A dazzling roster of celebrity winemakers, mixologists, and chefs will converge April 27 - 30, 2023 for the South Walton Beaches Wine & Food Festival in Grand Boulevard Town Center to wine, dine, educate, and entertain guests as part of the four-day celebration of wine, spirits, food, music, fun, and goodwill.
Kick off the festival at the Winemakers and Shakers event on Thursday, April 27th from 5 - 7 PM, held at Wine World in Destin. Join fellow wine lovers as you mingle with some of the top wineries in the world and taste great wines.
For more information and to purchase tickets, visit South Walton.


South Walton Beaches Wine & Food Festival
April 27, 5 - 7 PM | Winemakers & Shakers
April 28, 4 - 7 PM | VIP Wine Tasting
April 28, 5:30 - 8 PM || Craft Beer & Spirits Jam
April 29, 1 - 4 PM | Grand Tasting
April 30, 1 - 4 PM | Grand Tasting
South Walton Beaches Wine & Food Festival festival features a stunning showcase of some of the best wines in the world. Celebrity wine producers and chefs present fine wine and food pairings from the world's most famous appellations. The Culinary Village offers a sumptuous array of foods to taste, wines to pair, as well as wine and food tasting seminars.
The event is a major fundraiser for Destin Charity Wine Auction Foundation, which benefits children in need in Northwest Florida. To learn more about this worthy foundation, visit
DCWAF.org
.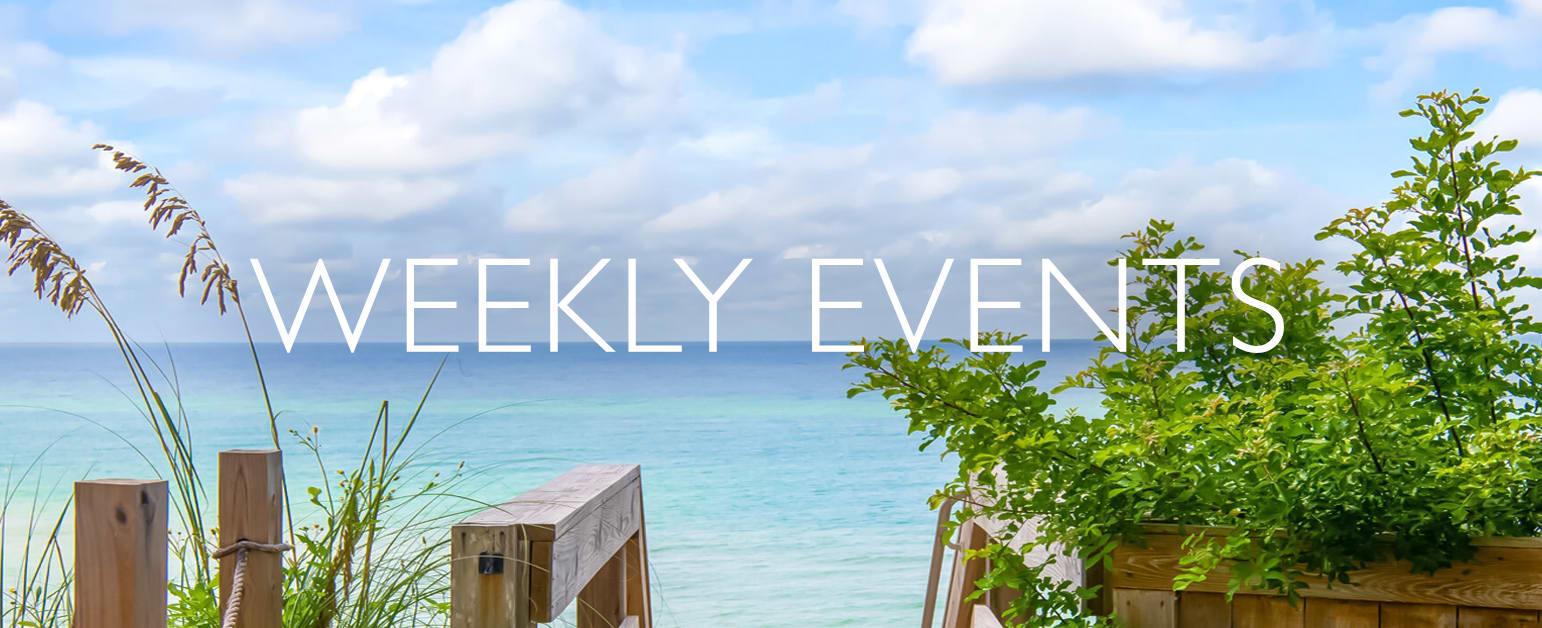 Spring It On! Concert Series @ Rosemary Beach
The Red Bar Jazz Band @ The Red Bar
Concert Series @ 30Avenue
Reels in the Amphitheatre @ Alys Beach
Awkward Oxen Improv @ Alys Beach Amphitheatre
Live Music @ Fish Out of Water | WaterColor
Every Friday | 6-9 PM
Every Sunday | 11 AM-1 PM
Rock the Docks Concert Series @ Harborwalk Village
Farmer's Markets
Every Thursday @ The Big Chill on 30A
Every Saturday @ Seaside, Grand Boulevard, Watersound & Baytowne Wharf
Every Sunday @ Rosemary Beach, Baytowne Wharf & Hammock Bay