November in our beach community unveils a hidden gem of coastal living. As the vibrant hues of summer and the bustling crowds of tourists fade into memory, the shoreline takes on a tranquil and inviting character of its own. This is the time when the locals reclaim their sandy shores, and the remaining visitors relish the serenity of the coast. Yet, November is far from a quiet interlude. It's a season of gratitude and celebration, marked by a delightful spectrum of events that embrace the essence of community living. From cozy bonfires on the sands to heartwarming festivities by the sea, November in our beach community brings together nature's elegance and the warmth of communal events. Join us as we uncover the gems of November, where the beach's allure meets the charm of autumn in an embrace that is nothing short of magical.
FESTIVALS & HAPPENINGS:
Description

:
The 30A BBQ Festival at Grand Boulevard is a family-friendly, public fundraising event for the non-profit organization, The Sonder Project. Beginning a 5:30PM on November 3, local businesses serve up BBQ samplers to compete for "Best BBQ" as voted on by attending guests who will enjoy all you can eat BBQ, drinks, a silent auction and live music.
This is a ticketed event. Purchase tickets here.
Blue Angels Homecoming Air Show
Description

:
The NAS Pensacola Blue Angels Homecoming Air Show will be held on November 3 & 4, 2023, with the theme "Celebrating Women In Aviation." Gates open at 8AM, and the show begins at 9:30AM. The Blue Angels close out the season at Pensacola Beach with a handful of aerobatic and stunt pilots performing.
General admission to the air show is free, and guests are welcome to bring their own portable lawn chairs or blankets to enjoy the show. For those guests that would prefer to reserve or purchase seating, there are several options available. Check the website for event schedule and tickets: naspensacolaairshow.com.
Follow NAS Pensacola Blue Angels Homecoming Air Show on Facebook for updates on the weekend's events, tickets, parking, photos and much more.
Panama City's Songwriters Festival
Where

:

Downtown Panama City
Description

:
Downtown Panama City, Florida will be home to the area's 5th Annual Songwriter Festival, November 3-4, 2023. Featuring original songs by local, regional and national musicians, Historic Downtown Panama City's most notable art galleries and performance spaces will transform into intimate music venues for this one-of-a kind festival.
WHEN: November 3rd & 4th, 2023
TIME: 4:30PM - 10PM
Visit pcsongwriters.com for VIP tickets, festival & artist info, view lodging partners and to learn about the Bay Youth Music Association.
Follow Panama City's Songwriters Festival on Facebook for updates.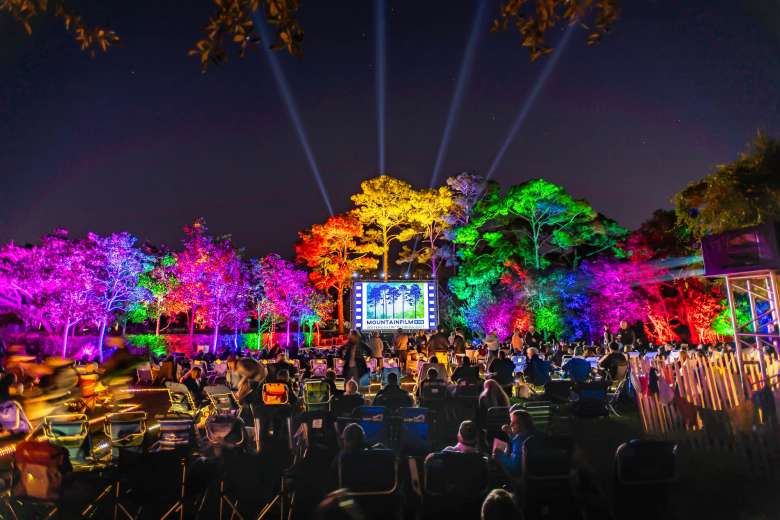 Where
:
WaterColor Marina Park
Description

:
Mountainfilm on Tour returns to WaterColor Marina Park Amphitheater on November 3 -4, 2023. Gates open at 5:45 PM. Films begin at 7 PM.
Tickets and Information at: watercolorresort.com/mountainfilm-on-tour
Celebrating its 23rd year, this outdoor film festival is dedicated to educating, inspiring, and motivating audiences about issues that matter. Each year, a selection of films from the annual festival in Telluride, Colorado is taken on the road to reach audiences who otherwise would not have a chance to experience the festival. The films selected for the show will explore themes connected to Mountainfilm's mission of using the power of film, art and ideas to inspire audiences to create a better world.
Learn more:
watercolorresort.com/mountainfilm-on-tour
Baytowne Wharf Concert: Tribute Weekend
Where
:
The Village of Baytowne Wharf
Description

:
The Village of Baytowne Wharf presents Tribute Weekend November 3 - 5. Rock out the weekend and enjoy live music from 3 great tribute bands. Grab your blankets and lawn chairs and meet us on the events plaza lawn for a jam-packed weekend of incredible music and talent. Admission is free and open to the public.
Friday, Nov. 3rd | 7 - 9pm
Saturday, Nov. 4th | 7 - 9pm
Sunday, Nov. 5th | 4 - 6pm
10th Annual Freeport Bayfest

Where

:

Freeport Regional Sports Complex at Hammock Bay
Description

:
The 10th annual
Freeport Bayfest
brings a fun-filled day of family entertainment to the Freeport Regional Sports Complex on Saturday, Nov. 4th from 9AM to 4PM. Admission is free!
Bayfest promises to be a fun day for the entire family featuring live entertainment and tons of vendors. Enjoy a cooking contest, jeep show, and mullet toss. There's also lots for the little ones to enjoy including a children's art contest, fun zone, pony rides, corn hole and more.
2023 LIVE MUSIC features: Kimberly Miller, Still Standing a Tribute to Elton John, Amy Blizzard, and Alonzo Russell
Website: freeportbayfest.com
Facebook Page: facebook.com/freeportbayfest/
Where

:

Mattie Kelly Cultural Arts Village
Description

:
Destin Food Truck Fest returns to the Mattie Kelly Cultural Arts Village in Destin, FL on November 4. Starting at 11AM, the family-friendly event will feature several of the city's finest food trucks, live entertainment, vendors exhibiting and selling gifts, crafts, jewelry, personal care products and much more.
Saturday, November 4 | 11AM - 7PM
$5 Admission. Kids 12 and under are free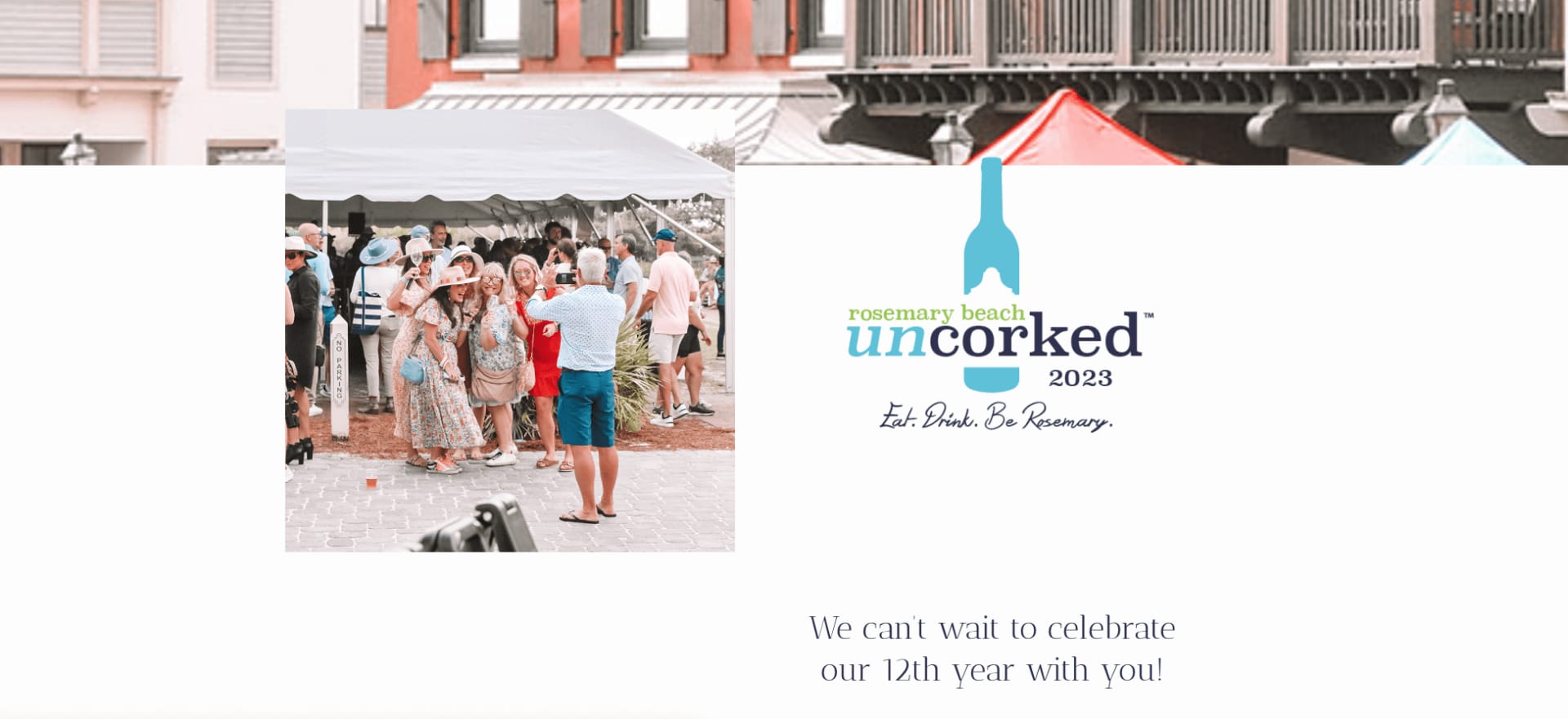 Where

:

Rosemary Beach Town
Description

:
Set in an idyllic beach locale complete with picturesque cobblestone streets and exquisite wines ready for the pour, Rosemary Beach Uncorked will celebrate its 12th year with the 2023 event set to take place Saturday, November 4, 1 PM to 4 PM.
For more information and to purchase tickets, visit rosemarybeachuncorked.com.
Taste the very best of food and wine Rosemary Beach has to offer with featured restaurants, countless bottles ready for the pour and a rockin' band performing live throughout the festival. Connect with Rosemary Beach Uncorked: Facebook
Description

:
Seeing Red Wine Festival in Seaside brings four days of wine and culinary events to South Walton for a timeless tradition November 9 - 12, 2023.
Grand and reserve tastings, live music, local cuisines, a themed brunch, vintners dinner, and more! Seeing Red offers a fun-filled weekend, whether you choose to experience every event or just one. Customize your weekend experience by purchasing curated packages or individual tickets and reservations.
Tickets are on sale at seeingredwinefestival.com!
SEEING RED WINE FESTIVAL 2023
Nov. 9th @ 6:30PM - 9:30PM || Bud & Alley's Restaurant Vintners Dinner
Nov. 10th @ 6PM - 8:30PM || Al Fresco Wine Tasting
Nov. 11 @ 1PM - 4PM || Grand Tasting
Nov. 12 @ 10AM - 1PM || Sunday Tiki Social
Learn More:
seeingredwinefestival.com
Emerald Coast PCA Rodeo
Where
:
Northwest Florida State College
Description

:
Northwest Florida State College has partnered with Emerald Coast PCA Rodeo, a championship-caliber rodeo, to bring wholesome, world-class, family-friendly rodeo entertainment to Niceville, Florida. Set for November 10th and 11th at Northwest Florida State College, gates open at 6PM. The rodeo will go from 7:30PM - 9:30PM. Several delicious food trucks will be onsite selling a variety of food during the event.
Tickets: $20. Kids Under 3 Free! Purchase online or at the gate (while Tickets last).
All proceeds from the event will support Raider Athletics.
View the schedule and learn more: emeraldcoastrodeo.com
Where
:
Watersounds Town Center
Description

:
The Flutterby Arts Festival, produced by the Cultural Arts Alliance of Walton County, celebrates its 31st year of the migration of the Monarch butterfly through our area on Sunday, November 12 from 10AM - 4PM at The Pavilion at Watersound Town Center.
Join us for this free, family-fun event with kid's art activities, live performances, lawn games, a student art exhibit, curated professional artist market, a butterfly parade, science station, book nook and so much more!
Admission to the Flutterby Festival is free and open to the public, and some activities require tickets, which can be purchased at the CAA welcome and information tents within the Festival. Parking, including accessible parking, will be available on-site as well as a cash bar and food trucks.
Learn More:
Cultural Arts Alliance of Walton County
Flutterby Arts Festival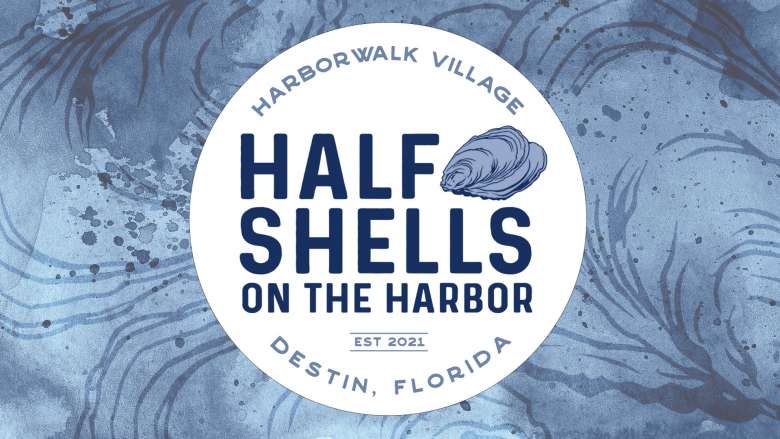 Half Shells on the Harbor
Where
:
HarborWalk Village
Description

:
Half Shells on the Harbor is coming to the Destin Harbor Sunday, November 12 beginning at 1PM. This Tide to Table event features fresh oyster tastings as local chefs come together to showcase their spin on this coastal classic. From Raw to Rockefeller, enjoy a variety of preparations and flavors while sipping on spirits, craft beers, and wines. Don't miss this Shuckin' Good Time on the Destin Harbor!
Visit Half Shells on the Harbor for ticket information.
Alys Beach Supper Club Series: Prohibition Dinner
Where
:
Alys Beach Bike Shop
Description

:
The Alys Beach Supper Club Series hosts a Prohibition Dinner at the Alys Beach Bike Shop, located under the Beach Plaza, from 6 - 9PM on Monday, November 13. Come underground for an evening of Prohibition era elegance and intrigue with just a dash of rebellion.
Purchase tickets at: Alys Beach Supper Club Series: Prohibition Dinner
We'll journey back to the 1930's for this clandestine Supper Club Series dinner set speakeasy-style, with dishes inspired by the flavors of the past yet created with contemporary culinary process, and paired with cocktails crafted in homage to the movement's inventive mixology. We look forward to seeing you there, and don't forget to knock three times…
Sparkling Wine & Holiday Lights
Where
:
The Village of Baytowne Wharf
Description

:
Sandestin Golf and Beach Resort invites you to kick off the holiday season with the Sparkling Wine and Holiday Lights event on Saturday, November 18th from 4 - 6PM in the Village of Baytowne Wharf.
Sparkling Wine and Holiday Lights will take place on the beautifully decorated streets of Baytowne Wharf and feature more than 30 champagnes and delicious appetizers at featured Village restaurants. Guests can enjoy the sounds of the season with carolers, and a sneak peek of our first tree lighting of the season!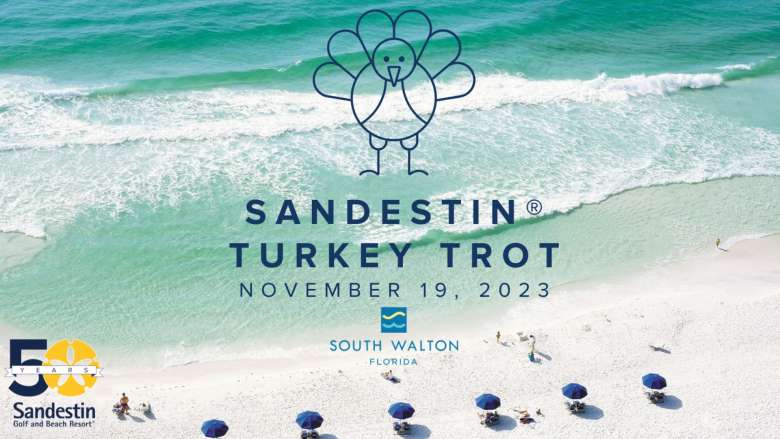 Description

:
The 2023 Sandestin Turkey Trot 5K Run and 1 Mile Fun Run/Walk is set to take place Sunday, November 19th. The race begins at 8AM at the Baytowne Marina. Stick around for a post run tailgate party at 11AM with beer, food, prizes, rewards and NFL football on the big screen. It's a great time for the whole family.
$45 for adults and $25 for 18 and under, first 30 people will receive a free t-shirt. Learn more and register: Sandestin Turkey Trot
Where
:
St. Augustine Green
Description

:
Join two and four-legged friends for the annual
Rosemary Beach Unleashed
pet festival on Sunday, November 19 from 2 – 4PM on St. Augustine Green in Rosemary Beach. You and your pet are encouraged to come in costume or theme attire (only vaccinated pooches, please!). This annual festival is free and open to the public.
Events will include: Pet Parade, Dog Contests, Music and more. There is a $10 entry fee per dog to participate in the dog contests. Awards for Best Large Dog, Best Small Dog, Best Costumes, Best Tricks, Look-A-Like, and many others!
For more information about Rosemary Beach Unleashed, sponsorship opportunities, and to purchase your pet's poster visit rosemarybeachfoundation.org/unleashed.
Description

:
The annual 30A 10K Thanksgiving Day charity race takes place on Thursday, Nov. 23 in Rosemary Beach. This fast & flat, out-and-back course route is designed for running enthusiasts looking for a great race to set a personal record or families that want to start a new, fun tradition on Thanksgiving Day morning. With a 10K, 5K, and 1 mile run/walk, there is a race distance for every ability.
Registration available at www.30A10K.com.
10K Race | 7:30 AM Start
5k Race | 9:30 AM Start
1Mile | 7:35 AM Start
After the race, participants are invited to join in the celebration at the free post-race breakfast featuring donuts, fresh fruit, food items from area restaurants, and the ever-popular beer tent and Bloody Mary and Mimosa bar.
The 30A 10K Thanksgiving Day Races' mission is to raise funds for local non-profits and to promote the spirit of health and wellness.
All money raised is donated to the event's annually selected charity partners. The charity partners for the 2023 race include: TBA
Seaside Turn on the Town!
Where
:
Seaside Amphitheater
Description

:
Turn On The Town welcomes Santa with the annual tree lighting on Saturday, November 25 from 4PM - 5PM in Seaside, Florida! As the sun sets, it's party time in the amphitheater with holiday festivities and of course pictures with the jolly-bearded one. Soon, the master of ceremonies asks all the kids to the stage to sing to the crowd of smiling faces, and after jingle bells, the count down begins in unison to "Turn on the Town."
What a wonderful time of year to enjoy the beautiful festive lights and events throughout the holidays in Seaside!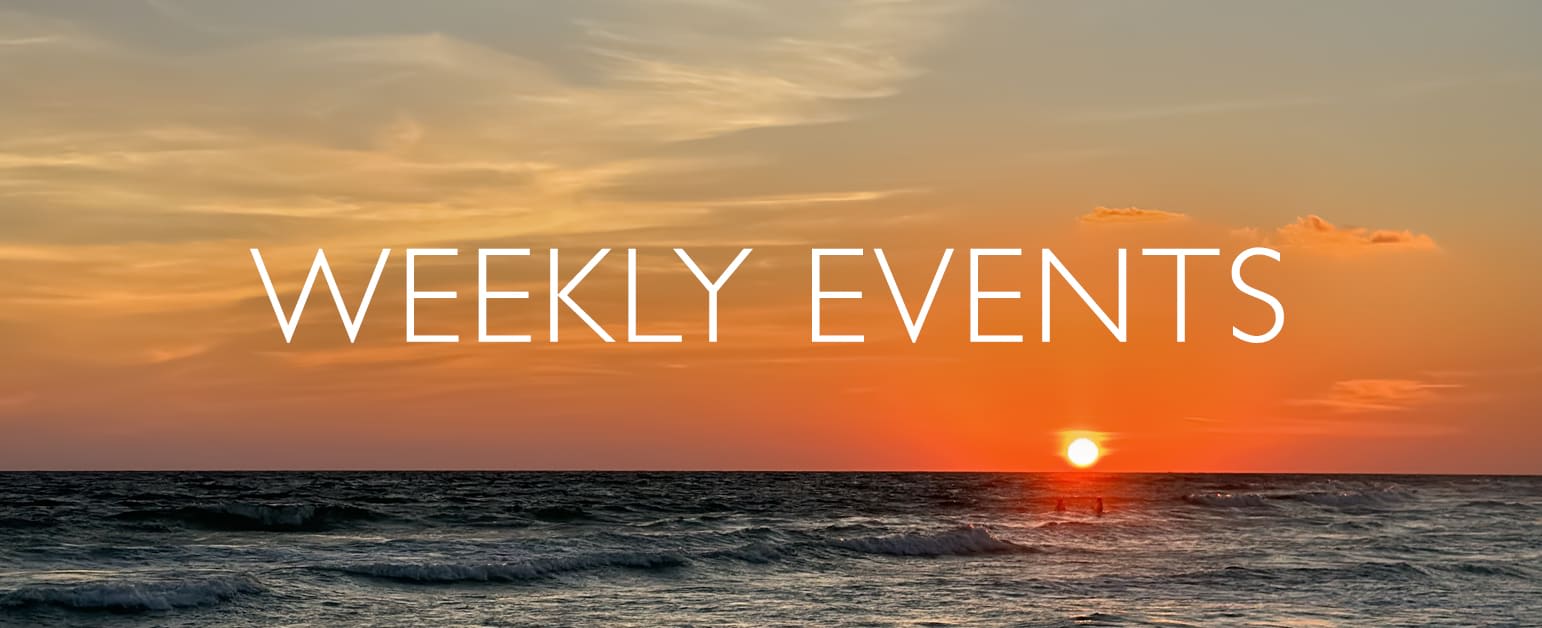 The Red Bar Jazz Band @ The Red Bar
Yoga In the Backyard of Love @ Hibiscus Coffee & Guesthouse
College Football Saturdays @ Harborwalk Village
Brunch & Live Music @ FOOW30A
Brunch & Live Music @ Stinky's Fish Camp
Every Sunday | 10AM-3:30PM
Every Thursday @ The Big Chill on 30A
Every Saturday @
Seaside, Grand Boulevard, Watersound & Baytowne Wharf
Every Sunday @ Rosemary Beach, Baytowne Wharf & Hammock Bay
Last Sunday of the Month @ Destin Commons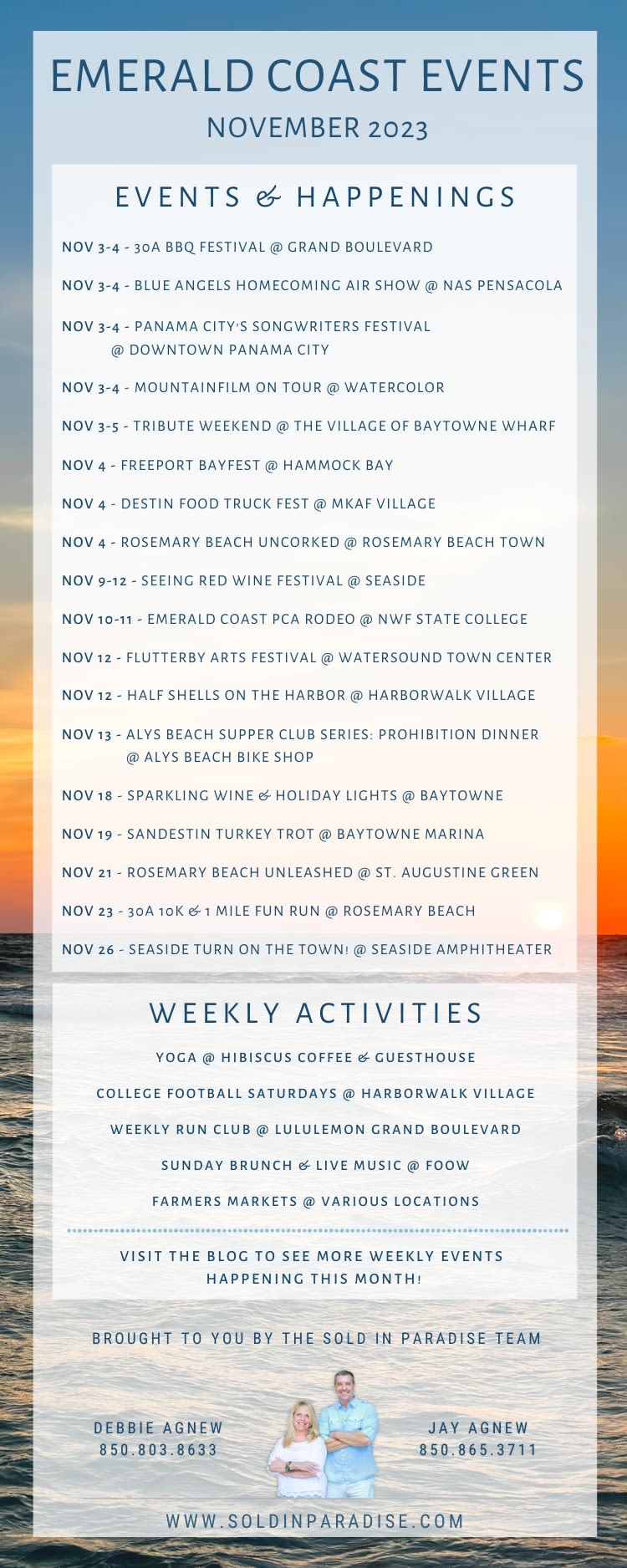 Planning to be in town?
Let's Chat!