As the days grow shorter and the breeze carries a hint of crispness, the beach takes on a unique charm, setting the stage for a captivating array of events. Along these shorelines, October is a time for both locals and visitors to savor the quieter side of seaside living, while also indulging in a rich tapestry of events that celebrate the intersection of nature, culture, and community. From beer and wine festivals to fishing tournaments, October by the beach promises a mosaic of experiences that blend the tranquility of the shoreline with the excitement of festive gatherings. Dive into the enchanting world of October beach events, where the beauty of nature meets the magic of the season.
FESTIVALS & HAPPENINGS:
Stinky's Fall Pompano Beach To Bay Grand Slam Fishing Tournament
Where

:

Stinky's Bait Shack
Description

:
The Stinky's Fall Pompano Beach to Bay Gand Slam Tournament begins October 1 at Stinky's Bait Shack. Anglers may weigh in fish 10AM-6PM daily through Saturday, October 28th. You can register in person, or by phone (850)622-2248 or online at StinkysBaitShop.com.
Rules & Regulations Have Changed! READ HERE
Follow Stinky's Bait Shack on Facebook to view leader board changes and tournament photos.
Tournament 2023 Kick Off Party
Stinky's Fall Pompano Beach to Bay Gand Slam Tournament 2023 kicks off with a party at the Bait Shack on Sunday, September 30 at 5PM. Enjoy tall tales and a little friendly pre-competition banter with your favorite fishheads and live music. NOLA favorite, Big Daddy O will take the stage at 5PM followed by Austin Moody at 8PM.
LIVE BAIT. COLD BEER. NICE PEOPLE. Half favorite local bar and half fishing and bait fun shop, Stinky's Bait Shack is a longtime favorite hangout in South Walton. Stay up to date on music lineup, bait and fishing tournaments by following Stinky's Bait Shack on Facebook.
Alaqua: The Fast & The Furriest
Where

:

Alaqua Animal Refuge
Description

:
Bring the whole family to Alaqua Animal Refuge for The Fast and the Furriest: Animal & Exotic Car Show where the world of horsepower meets the world of paw power. Set from Noon - 3PM on Sunday, October 1st, The Fast & The Furriest will feature food vendors, photo opportunities and a great time for car enthusiasts and animal lovers alike.
Enjoy tasty treats and swag for the whole family from: Young Living, The Bakery Lady, Hot Dog! All-Natural Dog Treats, Melissa's Kusina, Rollin Cuban, Cool Fish Apparel.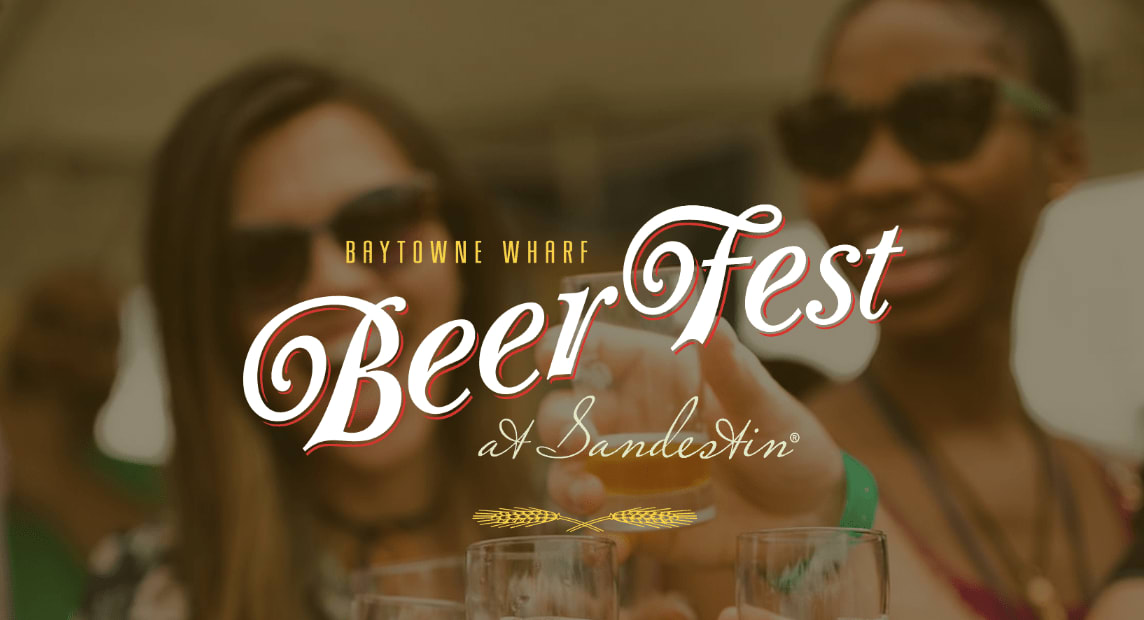 Baytowne Wharf Beer Festival
Where

:

The Village of Baytowne Wharf
Description

:
Time to roll out the barrel and discover unique suds & ales! The Village of Baytowne Wharf presents the 15th annual Baytowne Wharf Beer Festival on October 6 & 7, 2023. American specialty beers from around the nation will be available for sampling and savoring. Tickets and info: baytownebeerfestival.com
Presented by The Village of Baytowne Wharf, this year's weekend long events will have even more ways for you to enjoy your favorite brew.
Beer From Around Here
Friday, October 6th | 6 - 8PM
Enjoy an intimate evening and a pre- grand tasting party at ​Beer From Around Here event. This night will be filled with samplings of local brews and food from merchants, and live music featuring Duchess on the lawn! Limited Number of tickets available.
Grand Craft Beer Tasting
Saturday, October 7th
1 - 2 PM || VIP event hosted at Landshark Bar & Grill
2 - 5 PM || The main event will feature more than 200 domestic and international craft beers available for sampling. Brewery representatives will be available at the event, offering an opportunity to learn about the different types of lagers and ales from a variety of styles. Live entertainment: Six Piece Suits
45th Annual Destin Seafood Festival
Description

:
The 45th annual Destin Seafood Festival takes place along the Destin Harbor Boardwalk Oct. 6 - 8, 2023! Come out to the world's luckiest fishing village for this three-day festival filled with great seafood, live music and family fun on the Destin Harbor. Free admission.
Friday, October 6th | 4 PM - 10 PM
Saturday, October 7th | 10 AM - 10 PM
Sunday, October 8th | 10 AM - 6 PM
Destin Seafood Festival kicks off Friday, Oct. 6 and goes through Sunday, October 8. It will showcase the best that Destin has to offer on the Harbor. Stroll along the Harbor Boardwalk from one end to the other with over a mile of festival on the water showcasing Destin's Fishing Fleet, Harbor restaurants, bars and shops, and breathtaking views!
More info: destinseafoodfestival.com
Event Facebook Page: facebook.com/DestinSeafoodFest
Where
:
North Beach Social
Description

:
North Beach Social's Oktoberfest Celebration, an all-day party featuring live music and a costume contest, will take place Sunday, October 8th. Costume contest: $250 gift card 1st place & $150 gift card 2nd place! Spend your day on the bayside with cold drinks, delicious eats and live music.
Sunday, Oct. 8 @ NB Social Oktoberfest Celebration
LIVE MUSIC || 1 - 4PM: Wildlife Specials
LIVE MUSIC || 6 - 9PM: Salt Rock
North Beach Social is a beach restaurant and bar located at the foot of the 331 bridge in Santa Rosa Beach on the Choctawhatchee Bay. Guests order from the counter and bar and enjoy beach games, toys and seating in a very laid back atmosphere.
Learn more:
https://northbeach.social/
North Beach Social on Facebook
Watersound Origins Porchfest

Where

:

Watersound Origins Village Commons
Description

:
The Watersound Origins community will host the annual Watersound Origins Porchfest on Sunday, October 8 from 3 - 6PM. This event will take place throughout Watersound Origins on the front porches and lawns of the community.
This event is FREE and open to the public. Bring a lawn chair and friends and be ready for an afternoon of good music, good people, and good neighbors. Food Trucks at the event include: Curry in a Hurry and MyOhana.
Watersound Origins Porchfest 2023
3PM: Lori Ubowski
3PM: Weston T. Hine
3PM: Boukou Groove Duo
4:15PM:Tanglewood
5PM: 30A Songwriters Festival Stage: Mary Bragg (with full band)
Description

:
The first-ever Salt Water Music Fest, presented by Salt Water Vacations and MKAF, brings Destin music lovers a sensational three-day music showcase celebration to raise funds and awareness for MKAF — Destin's champion of the cultural arts for all. The two-day music festival is Thursday, Oct. 12, and Friday, Oct. 13 at MKAF's Cultural Arts Village in Destin with a singer/songwriter brunch to follow on Sunday, Oct. 14 at Soleil in Destin.
The event will include multiple food trucks, beverage bars, merchandise retail sales as well as artist meet & greets (for some ticket levels). Tickets for the Salt Water Music Festival are available for purchase online at mkaf.org.
General Admission is lawn seating. Bring a low-back chair or blanket. No outside food or beverage permitted.
Thursday, October 12th
5PM: VIP/MKAF Members Entry
5:30PM: General Admission
7PM: LIVE Concert featuring Macy Gray & California Jet Club
Friday, October 13th
3:30PM: VIP/MKAF Member Entry
4PM: General Admission
5PM: LIVE Concert featuring Nashville Singer / Songwriters & LOCASH
Saturday, October 14th
10AM - 1PM: Singer/Songwriter Brunch @ Soleil
More Info at:
www.MKAF.org
Mattie Kelly Arts Foundation on Facebook
Panama City Beach Oktoberfest
Where

:

Aaron Bessant Park
Description

:
Panama City Beach Oktoberfest returns to Aaron Bessant Park October 13 - 15, 2023. Enjoy three days of German and locally brewed beer, food, live music, as well as activities for kids and families. The event will feature a massive tent decorated like the authentic Oktoberfest tent in Munich, Germany, as well outdoor beer gardens and a VIP section under the tent.
Purchase tickets at www.pcboktoberfest.com.
Get ready for great German food! Pair your beer with brats, either famous or smoked, meterwurst, or hot dogs (with or without sauerkraut). Plus, nothing is better with your new and old favorite beer than giant pretzels with beer-infused cheese. Come out for good eats including other traditional Oktoberfest fare.
Enjoy 3 days of FUN
Oct 13 | 4PM - 11PM
Oct 14 | 11AM - 11PM
Oct 15 | 11AM - 5PM​
Bring the kids and they will enjoy rounds of corn hole, or they can burn off excess energy in one (or all eight) of the blow-up bounce houses and slide zone. Kids and adults alike can get their faces painted and get a photo memento of the fun they had at the gif photo booth. For the grown-up kids, don't miss out on the stein hoisting competition on Saturday to test your strength and distance throwing abilities!
For more information or to purchase tickets, visit www.pcboktoberfest.com/
Eggs on the Beach Cooking Competition
Where
:
Seascape Towne Center
Description

:
Bay Breeze Patio, an official retailer of the Big Green Egg, announces the 9th annual Eggs on the Beach: EggFest Cooking Competition taking place on Saturday, October 14 from 10AM to 1:30PM at Seascape Towne Center in Miramar Beach, Florida. Tasters enjoy unlimited bites, live music, Knob Creek samples, a chance to win a Mini-Max Big Green Egg, and more.
Taster tickets are also on sale now with special advance pricing of $45/adult, $15/child (age 11-17) and kids 10 and under are free. Sponsorships are also available. To learn more or to register a cook team or purchase a taster ticket, visit EggsontheBeach.com.
Cook teams will be serving delicious bites cooked on the Big Green Egg and competing for cash and prizes. This year's event will be held behind the Seascape Towne Center, which features a tiki bar with flat screen TVs that will air the day's most popular college football games. The event benefits two local non-profits--Fisher House of the Emerald Coast & Food for Thought.
New to this year's event, Eggs on the Beach will include a Junior Chefs Competition. Open to five youth cook teams, the junior cook team category will allow young chefs, ages 8-14, an opportunity to showcase their talents and compete for the grand prize—a Mini-Max Big Green Egg.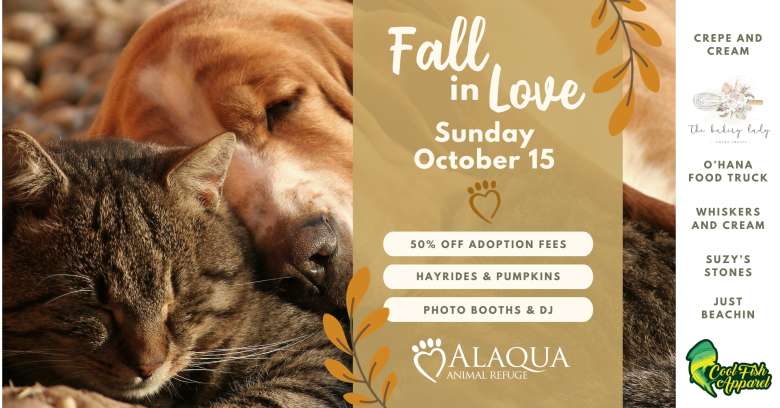 Alaqua Fall in Love Adoption Event
Where
:
Alaqua Animal Refuge
Description

:
Alaqua Animal Refuge will host Fall In Love Adoption Event on Sunday, October 15th. With 50% off adoption fees there has never been a better time to welcome a new love into your life. Beginning at 11AM, there is plenty to do to keep the whole family smiling. Take an hayride adventure, capture the memories with multiple photo opportunities, pick a pumpkin to take home and carve, and enjoy some tunes with a rockin' DJ!
Where
:
Henderson Beach Resort
Description

:
Junior League of the Emerald Coast hosts Toast on the Coast, an unforgettable afternoon of coastal indulgence at the beautiful Henderson Beach Resort in Destin, Florida on Sunday, October 15, 2023, at 2PM. Sip on refreshing drinks, sample various culinary delights, and enjoy live music as you take in the stunning views of the resort. There will also be a silent auction featuring our area's premier services.
More Info & Tickets: 2023 Toast on the Coast
Whether you're a foodie, a cocktail connoisseur, or simply looking for a fun afternoon out, Toast on the Coast is the event for you. Don't miss out on this opportunity to savor the flavors of the coast and celebrate all that makes this region so special. This event will raise money for the Child Clothing Project.
Where
:
Walton County Fairgrounds
Description

:
The Walton County Fair 2023 takes place October 16 - 21 at the Fair Grounds in DeFuniak Springs, Florida. Lots of family fun for the week! See Walton County Fair website for schedule of events, rides, pricing, youth activities, contest entries, live entertainment, and more!
Walton County Fair | Oct 16 - 21, 2023
Mon - Fri | 5pm - 10pm
Sat | 12pm - 10pm
The fair prides itself on continuing to update the areas for exhibits and entertainment. Exhibits at the fair still include animal, art, agriculture, handicrafts, potted plants, photography, and canned foods divisions. Children also have the opportunity to showcase their skills and talents with animals, speeches and educational posters.
Entertainment is a big deal at the fair. Each year the building is filled with music - from gospel to country and western performers. The gospel sing on Saturday night has become a great hit and much-anticipated event.
Learn more:
waltoncountyfair.com
Harvest Wine & Food Festival
Description

:
Welcome to 7th Annual Harvest Wine and Food Festival weekend in WaterColor, Florida. Held October 19 - 22, 2023, the Grand Tasting takes place on Saturday, October 21st in Cerulean Park from 1 - 4PM.
More information and tickets at harvestwineandfood.com.
Produced by Destin Charity Wine Auction Foundation (DCWAF), Harvest Wine & Food Festival provides patrons the opportunity to sip and savor some of the world's finest wine and culinary selections while enjoying the iconic beach town of WaterColor.
HARVEST WINE AND FOOD FESTIVAL Schedule of Events:
October 19, 9AM - Sunday, October 22, NOON || Virtual Auction
October 19, 6PM || Winemaker Dinner Series throughout South Walton
October 20, 4PM || Better Together Cocktail Seminar
October 20, 7PM || Harvest After Dark
October 21, 1 - 4PM || Grand Tasting in Cerulean Park, WaterColor, Fla.
October 22, 11AM || Spirits Brunch in WaterColor, Fla.
Harvest After Dark | October 20, Marina Park, 7PM
This year's event brings a new spin to past festival favorites, Al Fresco Reserve Tasting. Harvest After Dark offers a lively yet upscale ambiance, inviting a limited crowd to indulge in an evening of elevated wines, unlikely pairings, and culinary delights crafted by talented celebrity chefs from across the southeast.
Destin Charity Wine Auction Foundation's (DCWAF) mission is to connect wine enthusiasts to raise money to benefit children in need in Northwest Florida. Learn more at DCWAF.org.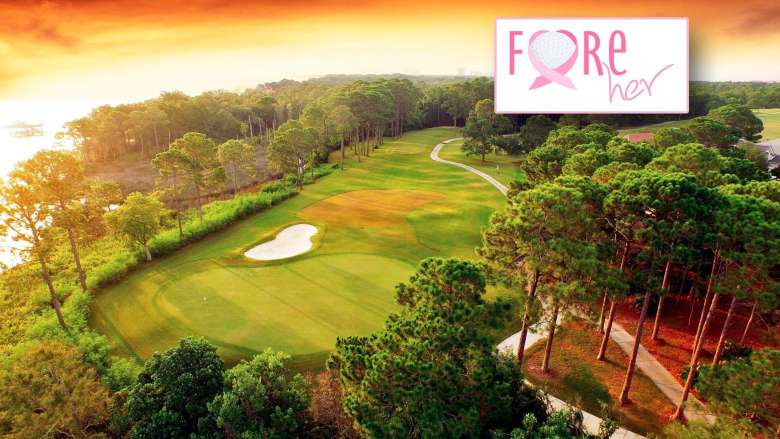 Where
:
Links Sandestin Golf Course
Description

:
Get teed up and ready for a day of golf at the 11th Annual FORE HER Golf Outing on Friday, October 20, 2023 at Links Golf Club in the Sandestin Golf & Beach Resort. Presented by Emerald Coast Hospice, the money raised from this event will go directly to local individuals battling breast cancer.
The event will include food & drinks on holes, a Bloody Mary Bar, the infamous Dress Like a Girl Hole and a fun time at the 19th Hole! Stay for the afterparty with live music, silent auction, prizes and lunch catered by Rudy's BBQ.
11th Annual FORE HER
8:30AM: Check in / Registration
9:20AM: Announcements
9:30AM: Tee off
1:30PM: 19th Hole
To learn more about the Eleventh Annual Golf Outing, contact [email protected].
Fore Her, Inc., a 501c3 non-profit organization, based in Santa Rosa Beach, FL, that provides financial assistance to local women who are battling breast cancer. More info at foreher.org.
Cars of 30A Festival 'Golden Hour'
Where
:
Watersound Town Center
Description

:
Join Cars of 30A for an exciting car festival at Watersound Town Center! Cars of 30A Festival 'Golden Hour' is set for Saturday, October 21st from 4 - 7PM. Get ready to feast your eyes on a spectacular display of stunning cars that embrace the automotive culture found along scenic highway 30A. Whether you're a fan of exotic cars, classic cars, or iconic beach trucks, there will be something for everyone to admire.
Admission: $25 Ticket, Agent 10 and under are free.
PURCHASE TICKETS
Submit your car to be shown shown in the featured lot.
Learn more:
carsof30a.com
Barktoberfest at Grand Boulevard
Where
:
Grand Boulevard Grand Park
Description

:
Dog-Harmony presents Barktoberfest, a doggie social with beer for humans, will be held from 4:30 p.m. to 6:30 p.m. on October 26 in Grand Park at the upscale shopping center Grand Boulevard. This event is free and open to the public. Guests will enjoy light bites, libations, and live music
Attendees and their pets are encouraged to dress in their Halloween best and enjoy a canine-only trick-or-treating event. Best costumes announced at 6:15 p.m.
This event is presented as part of the Coastal Culture Series made possible by the Grand Boulevard Arts & Entertainment Program. Please no prong or shock collars.
Visit http://dog-harmony.org/ to learn more, volunteer, donate, adopt.
28th Annual Festival of the Arts
Where
:
Henderson Beach Resort
Description

:
Join Mattie Kelly Arts Foundation for an unforgettable celebration of creativity, community, and culture at the 28th Annual MKAF Festival of the Arts. The festivities kick off with the Arty Kick Off Party on Friday, Oct. 27 at the Henderson Beach Resort in Destin, followed by an exciting weekend exhibition on Saturday, Oct. 28, and Sunday, Oct. 29 at the picturesque Dugas Pavilion at Mattie Kelly Arts Foundation Destin.
The Arty Kick-Off Party features award-winning oil painting artist Kathy Schumacher painting live, while guests enjoy hors d'oeuvres, creative cocktails by Black Sheep Tequila, live music by Coconut Radi, and a cash bar. Tickets to the Arty Kick-Off Party are $75 per person (includes two drink tickets). Arty Kick Off Party Ticket Link: PURCHASE HERE
Arty Kick Off Party LOCATION:
Henderson Beach Resort
200 Henderson Resort Way
Destin, FL 32541
Mattie Kelly Arts Foundation (MKAF) presents the annual Festival of the Arts October 28 & 29, 2023, an entire weekend of art, music, food and fun for everyone. The area's premiere fine arts festival takes place at the MKAF Cultural Arts Village in Destin, Florida. Free for all attendees. More info at: https://mkaf.org/arts-festival/
Saturday, Oct 28 | 9am - 5pm
Sunday, Oct 29 | 10am - 4pm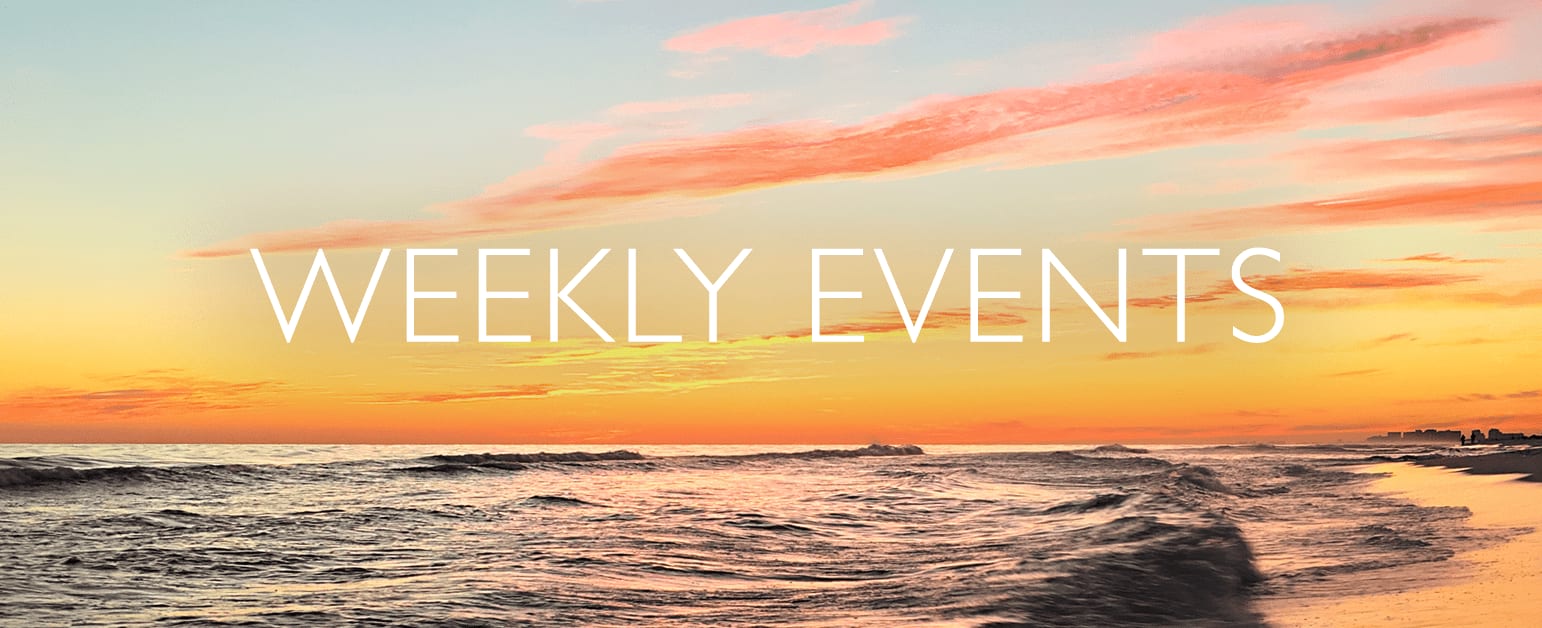 Wednesday Night Concert Series @ Baytowne
Fall Film Series @ Eden Gardens State Park
The Red Bar Jazz Band @ The Red Bar
Yoga In the Backyard of Love @ Hibiscus Coffee & Guesthouse
Lawn Games in Grand Park @ Grand Boulevard
Every Friday & Saturday | 4-8PM
Sounds of Seaside Concert Series @ Seaside Amphitheater
Brunch & Live Music @ FOOW30A
Brunch & Live Music @ Stinky's Fish Camp
Every Sunday | 10AM-3:30PM
Pumpkin Patch @ Camp Helen State Park
Every Thursday @ The Big Chill on 30A
Every Saturday @
Seaside, Grand Boulevard, Watersound & Baytowne Wharf
Every Sunday @ Rosemary Beach, Baytowne Wharf & Hammock Bay
Last Sunday of the Month @ Destin Commons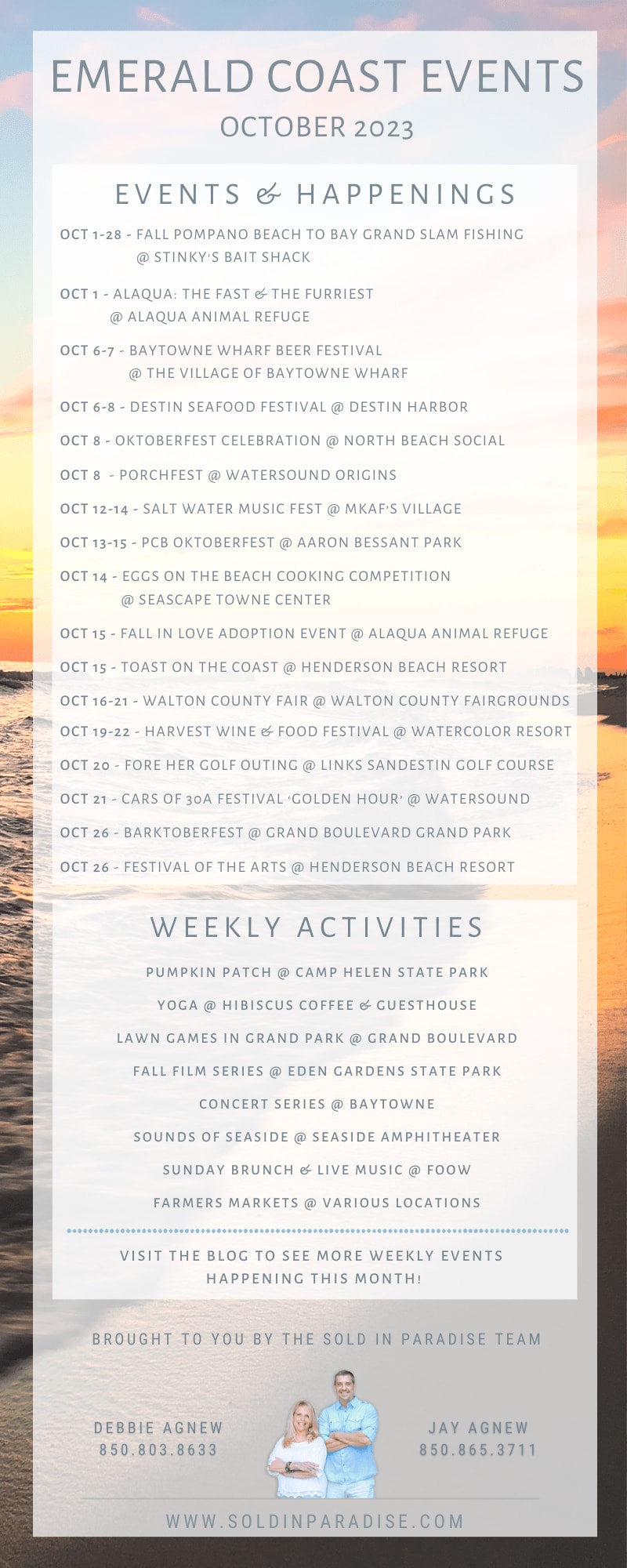 Planning to be in town?
Let's Chat!